Sunday's U.S.-China Tariff Deadline Could Go Either Way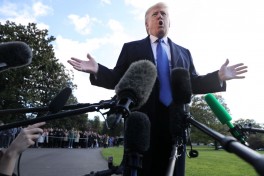 The Trump Administration could delay tariffs on more than $100 billion of Chinese goods planned to take effect this weekend. The New York Timesreported that U.S. officials have hinted at avoiding the additional tariffs, which would be placed on virtually every product imported from China, but sources said that the president "could go either way" when he meets with his advisors this week.
In October, the U.S. and China signaled a positive outcome when they announced a "Phase 1" trade agreement that would allow China to continue buying agricultural products from the U.S., while the U.S. would scale back planned October tariffs with the possibility of avoiding subsequent increases.
The takeaway at the time was that things were still very opaque, and that the two parties didn't completely see eye to eye over how (or if at all) the U.S. would scale back tariffs to a point that would satisfy China.
If the two parties don't come to an agreement before the deadline of 12:01 a.m. on Dec. 15, the de facto consequence would be an additional 10 percent tariff on $160 billion in Chinese goods.
"Having another round of tariffs would be a poison pill in the context of the current U.S.-China negotiations, and in the context of the global economy," Myron Brilliant, executive vice president at the U.S. Chamber of Commerce, told the New York Times. "We hope both sides understand the urgency of getting an agreement finalized as soon as possible."
The issue for the Trump Administration, especially leading into an election year, is the optics of either supposedly conceding to Chinese demands or being stubborn at the expense of U.S. jobs and industries.
"I don't think the president wants to implement these new tariffs," Secretary of Agriculture Sonny Perdue told the New York Times. "But there's got to be some movement on [China's] part to encourage him not to do that, and hopefully the signal that they sent over soy and pork reduction might be that signal."
Treasury Secretary Steven Mnuchin said last week that the U.S. and China were in constant contact, and called the Sunday deadline "arbitrary."
While Mnuchin downplayed the importance of Sunday morning, it could be a strong indicator of the future of the relationship, as China has typically been quick to follow with retaliatory tariffs of its own.